WOLVERHAMPTON LINDY HOPPERS
Welcome to Swing Dance Lessons in Wolverhampton
Beginners Welcome
Beginners Lessons Thursdays 7.00pm
Running through 2019. Lessons are a drop in basis. That is you donot sign up for a course. See classes link icon below for more detail.

The Dance School that brings you authentic styled swing dance lessons based on original styling with authentic swing music from the 1920s,30s and 40s.
We run the only Authentic Swing dance lessons in this area-Authentic Lindy Hop etc.. Primarily we teach Savoy Style Lindy Hop.
The original authentic Swing Dance as taught by Frankie Manning one of the original Lindy Hoppers.
Secondarily we teach some Hollywood Style, the name coined by Eric Robinson & Sylvia Skylar. Those two epitomised the style in the modern age bringing together from their study and meeting original dancers of the style. AKA Dean Collins Style, Dean being one of the originals in that style.
This is the real thing -Authentic Swing music 1920s 1930s 1940s etc. And Authentic dance styling.
We do not teach Jive variants or teach Jive and call it Lindy Hop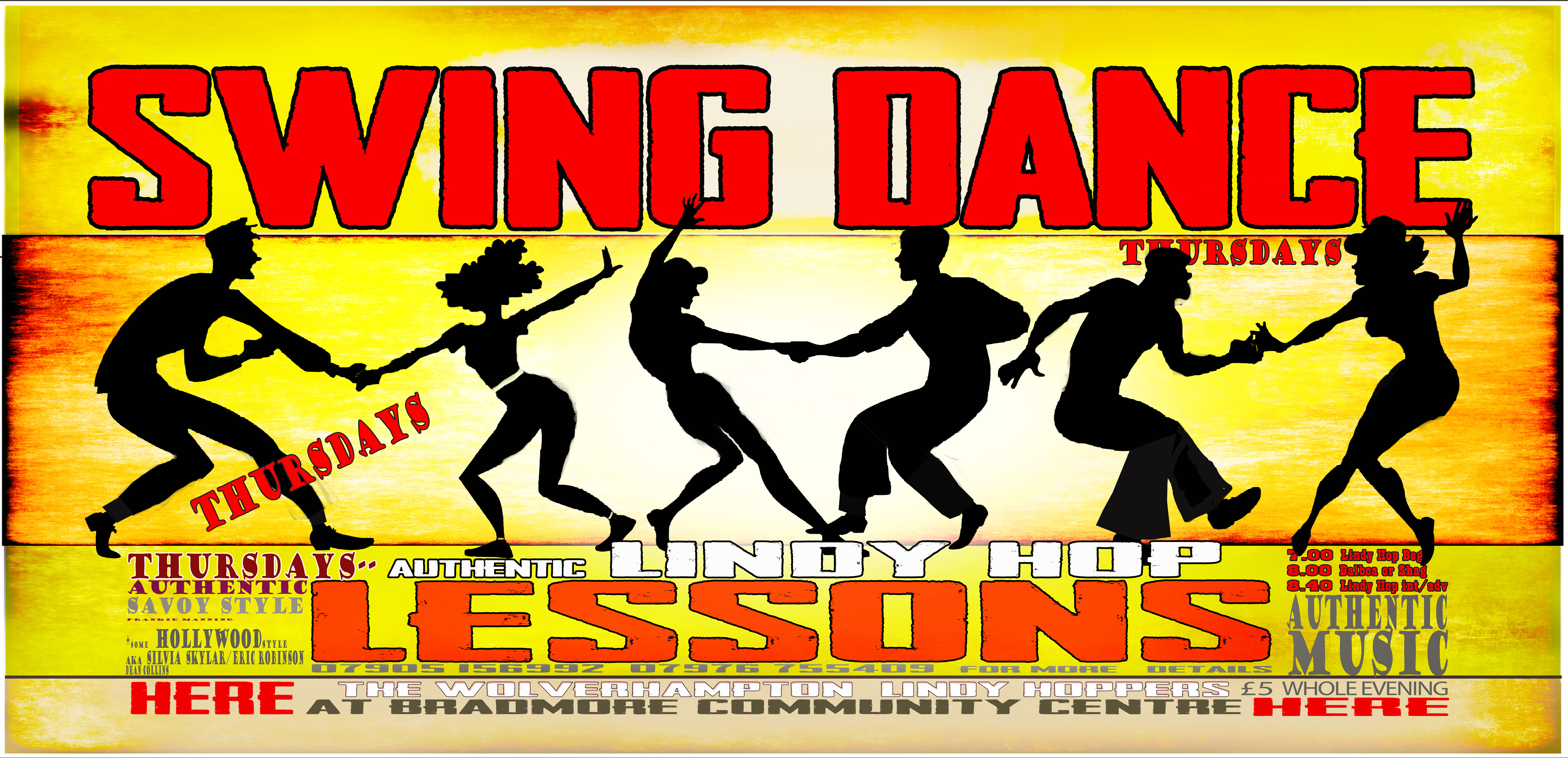 We are teaching SWING Dances, inc, LINDY HOP, BALBOA, COLLEGIATE SHAG
At special weekend workshops we are teaching Routines inc' Lindy Chorus, Hayburner, Chicken Reel
Shim Sham, CHARLESTON, Tranky Doo, Big Apple, Saint Louis Shim Sham, Dean Collins Shim Sham
LESSONS WOLVERHAMPTON THURSDAYs 2019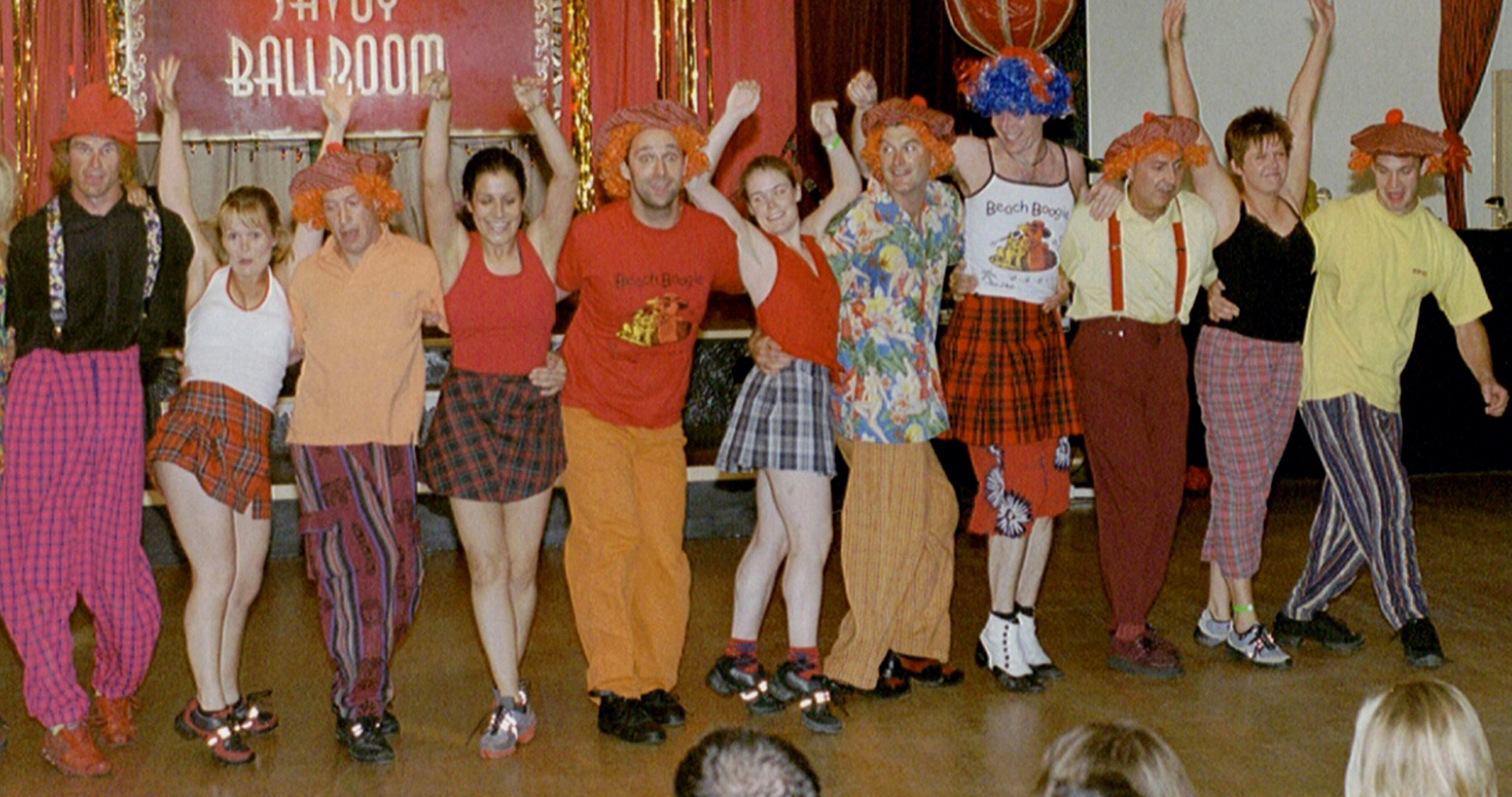 Beach Boogie 2001
EXTRA Tuesday Lessons advanced, please check
Near to Cannock & Stafford
Beginners 7.00pm. Also special Tuesdays 7.30pm
Swing Dance Lessons/Classes, Lindy Hop, Balboa, Collegiate Shag,-- Lindy Hop/Swing Dance, Charleston,
Frankie Manning Shim Sham, Saint Louis Shim Sham, Dean Collins Shim Sham, Tranky Doo, Big Apple, Jitterbug Stroll, Charleston Stroll. Lessons now in Wolverhampton, West Midlands near Birmingham & Walsall
Classes £5 whole evening including social practice time
Beginners Lesson For Absolute beginners 7.00pm Practice 7.50pm
Collegiate Shag or Balboa 8.00pm
Intermediate Lindy Hop Lesson 8.40pm Followed by social Practice 9.30pm
Finish 10.00pm
Organisers  Sally Mynett & Chris Sherwood
Bradmore Community Centre
2 Birches Barn Road, Penn Fields
WOLVERHAMPTON
West Midlands WV3 7BN
Near to Stafford, Staffordshire, Wombourne, Penn, Wednesbury, Dudley, Sedgley, Kingswinford, Wall Heath, Bilston, Darlaston, Willenhall, Staffordshire, Shropshire, Shrewsbury, Telford, Bridgnorth, Birmingham, Great Barr, Perry Barr, Sutton Coldfield, Lichfield, Shifnal, Codsall, Perton, Cannock